JAD
Regular price
€125,00 EUR
Regular price
Sale price
€125,00 EUR
Unit price
per
Sale
Sold out
This statement massive ring was crafted to celebrate the sea and its endless movement. It is perfect for important hands.
The polished silver waves stand out on the oxidized background echoing the changing reflections of the summer sea.
The special crafting process that we used doesn't allow to completely foresee the shapes that the small kind-of-stripped silver waves will have, so we choose the ones that fit better with the design (take a look at some of our Reels on Instagram to understand what we mean).⠀⠀
As a small jewelry brand we make all our pieces personally in our workshop, using both traditional and innovative goldsmiths techniques. We value the metal we work with, as they are precious resources with their strength and beauty already before any human intervention. We also value what we can give by interacting with them, the thoughts, the feelings and the energies that we put in our work.
Our pieces always bring traces of this view. They are rarely polished, and their surfaces are irregular although not catching. We think that a jewel should tell a story, have a clean design and show its link to the natural forces that shape our experience as living beings. All these elements are always represented in our jewellery and are well expressed by this unique ring.⠀⠀⠀
The oxidation is a natural process and will gradually wear out, leaving darker recesses and lighter edges. A more lived look, still preserving its beauty.
This open ring can fit from a 10 (Italian 22) to a 13 (Italian 30) and over But we absolutely need to know your size to set it for you.
Like all our jewelry, this ring is made of recycled silver.
Details:
Made of sterling 925 recycled silver
Size: it fits a 10 (Italian 22) but can go up to a 13 an over (Italian 30 up to 33). 
The central width is 1.14" (Italian cm.2,9) while the back is 0.4" (cm.1)
Custom duties are not included. Extra UE customers may have to pay local duties.
Share
View full details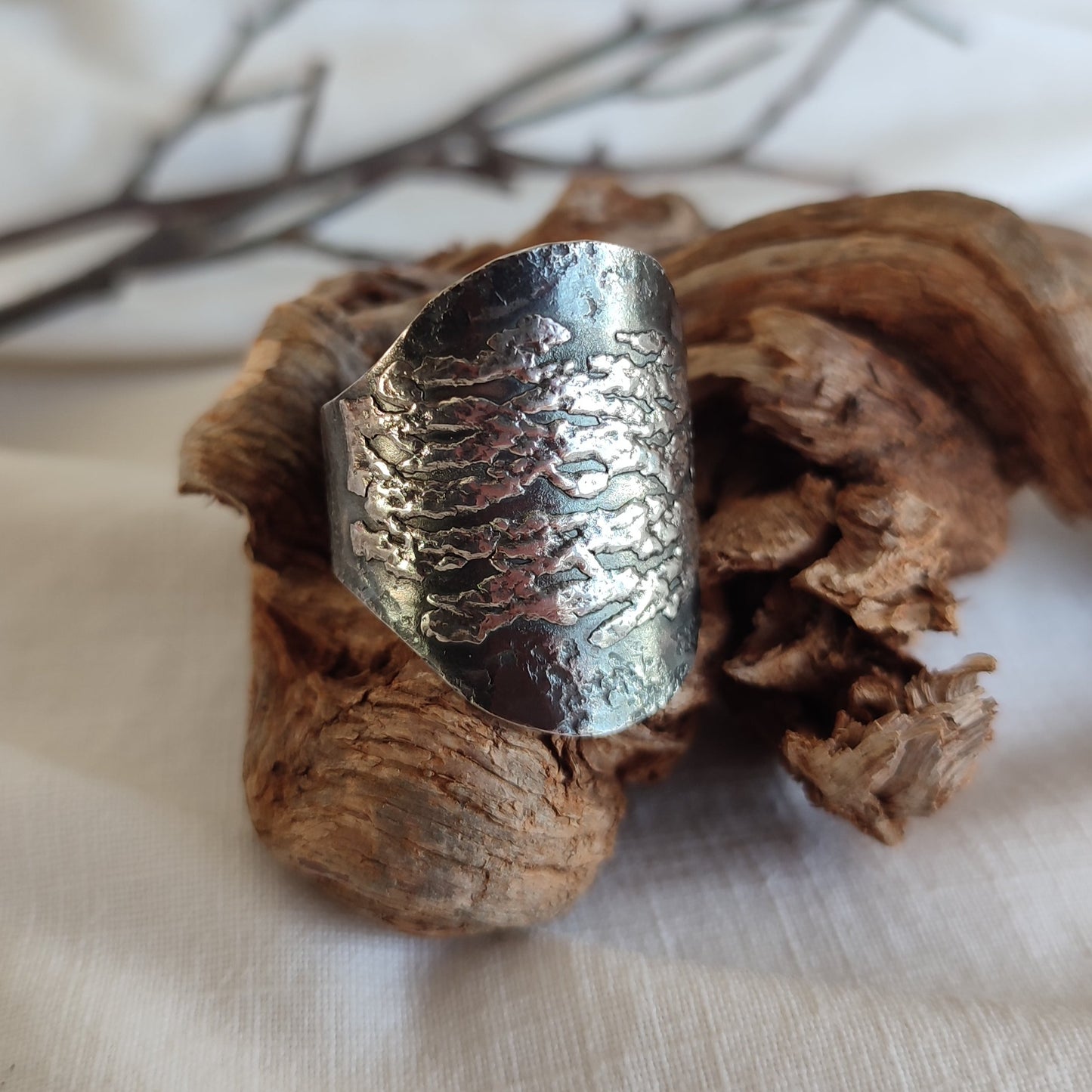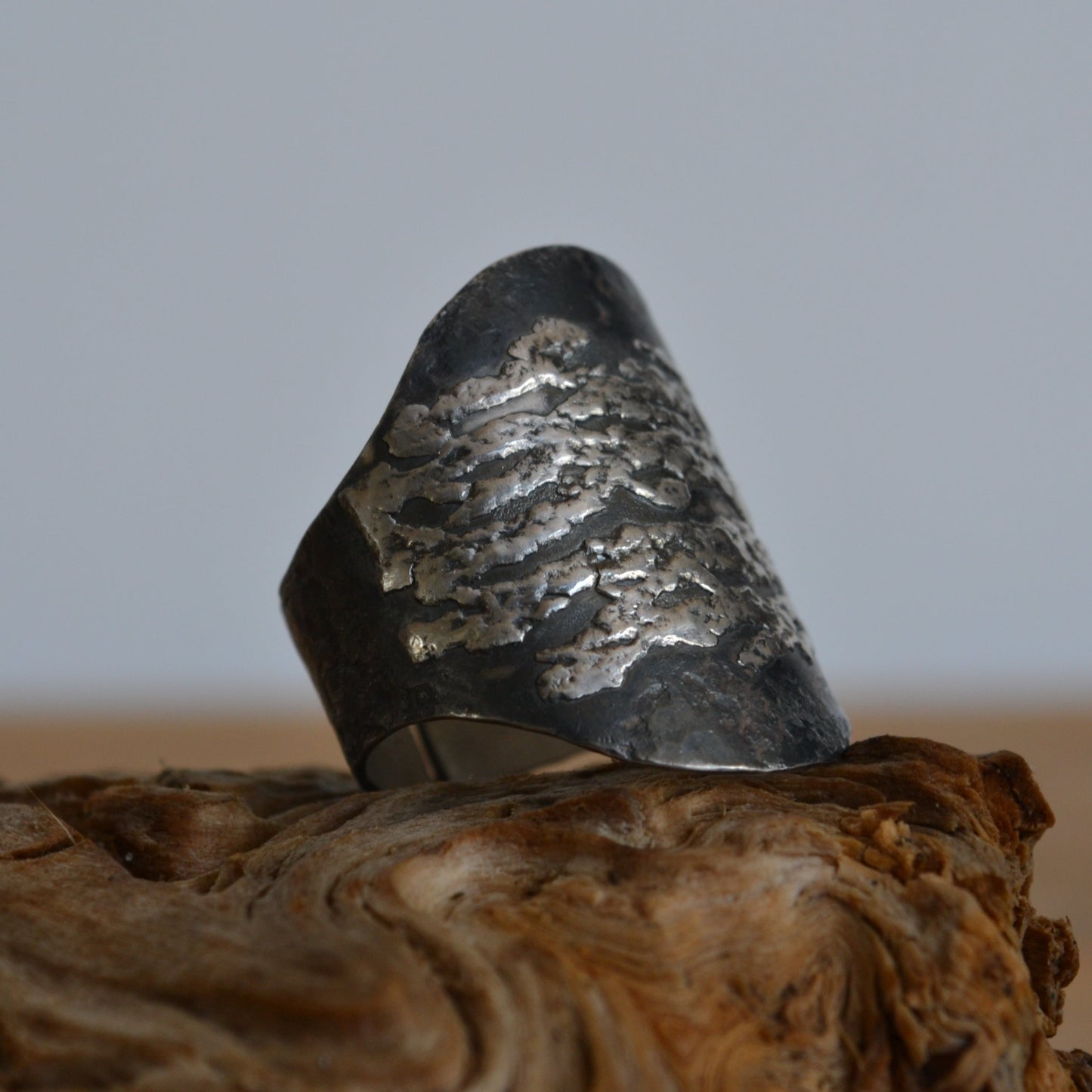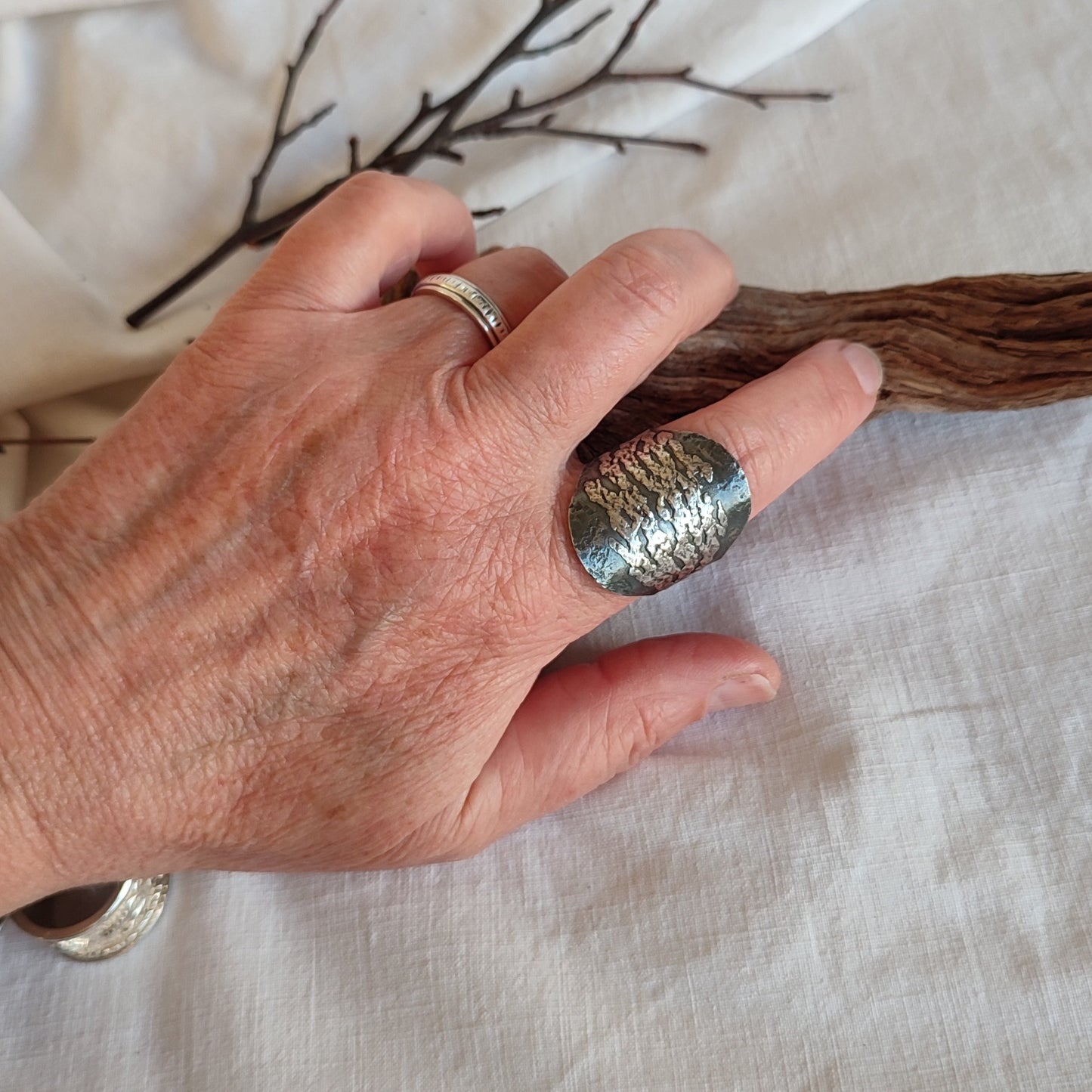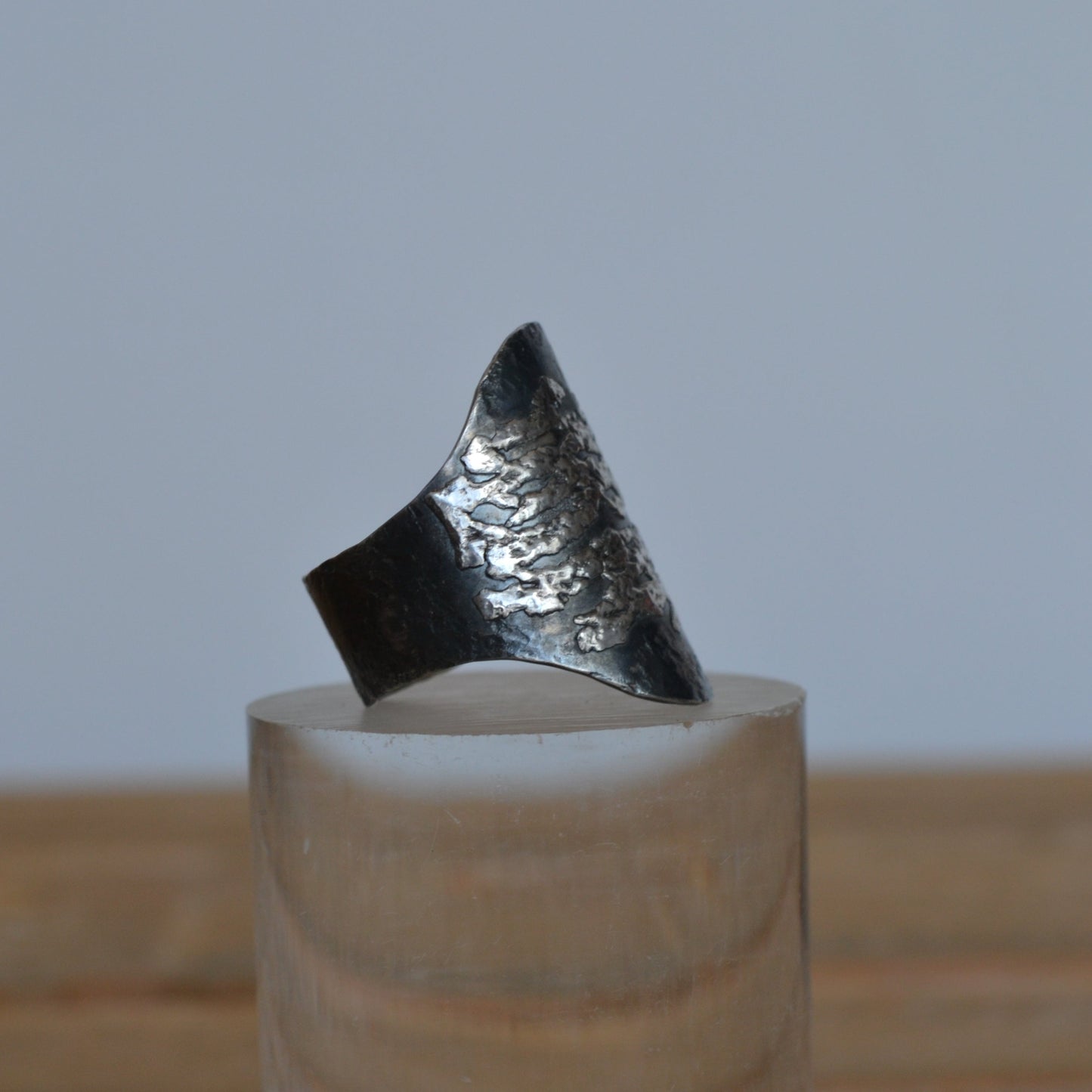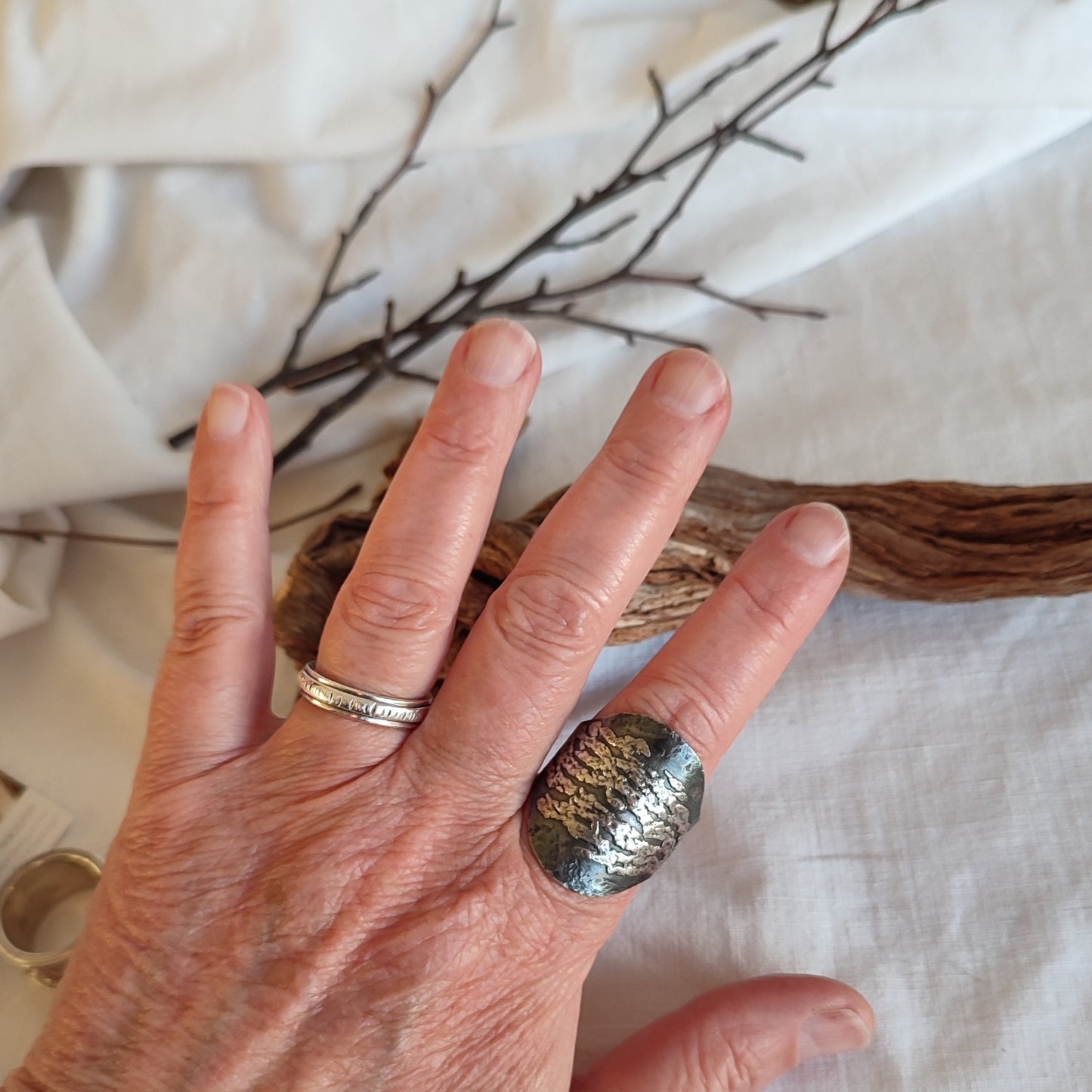 Subscribe to our newsletter
Once a month, we will share stories of creativity and hikes, thoughts and experiences. New things that we made and - every now and then - some special offers for those who love our jewellery and textiles.